Always Fresh, Always Organic
Turn your party into a taco party! La Chingona is available for catering and private events of all sizes. We also offer taco trays and taco kits which are available for pickup on days the taco stand is open. Please order at least X days in advance.
Our entire menu is gluten and dairy free, cooked on a high heat griddle with non-GMO grapeseed oil and organic olive oil. Seasoned with Himalayan salt, organic garlic, Paprika, and black pepper.
Included with every
Catering Experience
Tortillas
Handmade 100% Organic Corn tortillas, or Blue Corn (when in season)
Beans & Rice
Organic, can be added to tacos or served on the side
Greens
Organic mixed green lettuce, for salad bowls
Condiments
Cilantro, onions, pickled jalapeño & carrots, lime, and salt
Guacamole
About 2 quarts, for 30+ people events, also served with purple cabbage
Chips
Fresh chips to go with your tacos and salsa
Rent the Taco Stand
The Chingona crew will come to you, setup the stand and serve your guests
Full catering experience
Your choice of Aguas Frescas
Comes with plantains & churros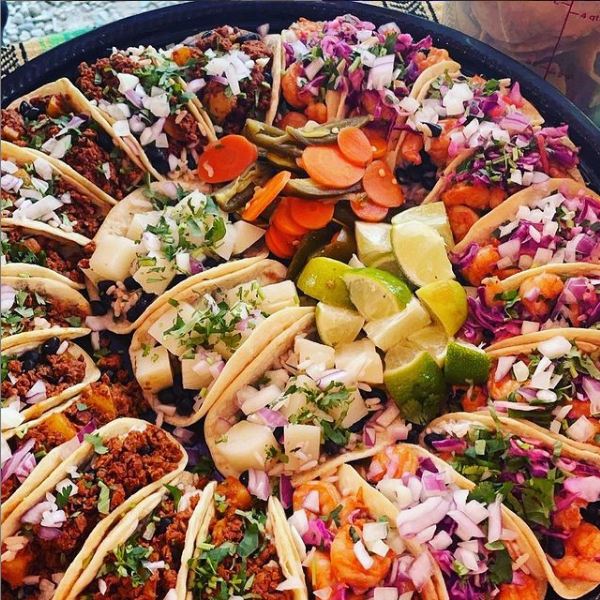 Taco Trays
Available Tuesday, Friday, Sunday
Ready to eat, Chingona street style.
Choice of proteins, Rice, beans, cabbage , cilantro, onions,pickle jalapeños and carrots, lime
Guacamole, non-spicy red roasted tomatoes salsa, and spicy avocado tomatillo salsa verde on the side
Must order 24 hours in advance
Must pick up in Topanga from 3-6pm
Minimum 20 tacos
Maximum 60 tacos
Taco Kit
Available Tuesday, Friday, Sunday
Everything packed separately to build your own tacos.
Choice of 2 proteins listed above
-Side of rice, beans, red salsa(kid friendly), avocado tomatillo salsa verde (hot), Guacamole And
chips
-Fresh hand made tortillas
-Taco condiments (cilantro, onions, lime, pickled carrots)
Must order 24 hours in advance
Must pick up in Topanga from 3-6pm
Minimum 30 tacos
Maximum 80 tacos
Booking
Please give us at least 2 weeks notice when planning your event. Deposit of 50% required to confirm your date.
Cancellation Policy
Events will only be rescheduled due to natural disasters or a death in the family. In that case, you will have one year to reschedule your taco party. Otherwise, you will lose your deposit.